Our trip to Vienna started off with an easy four hour, scenic train ride from Prague. We were pleasantly surprised when the train had free wifi, power outlets at every seat and also very clean bathrooms. About halfway through the journey we enjoyed cider beer and bratwursts from the cafe onboard. Once we arrived at the train station in Vienna we took the metro to the center of town where we checked into our hotel, 25 Hours Hotel. This hotel had been recommended by the authors of the Prague Foodie Map that I mentioned in our previous post – Brent called it the 'hipster hotel'. I loved this hotel because of the good design, crisp white sheets, the circus mural in our room above our bed, and the photobooth (all 'hipster' hotel qualities, I guess). They also provided me with a running map to run my way around the city in the morning (I was still marathon training at this point) as well as had a 'runners corner' in the lobby providing free water bottles and towels for runners. I would definitely recommend this hotel if you ever go to Vienna!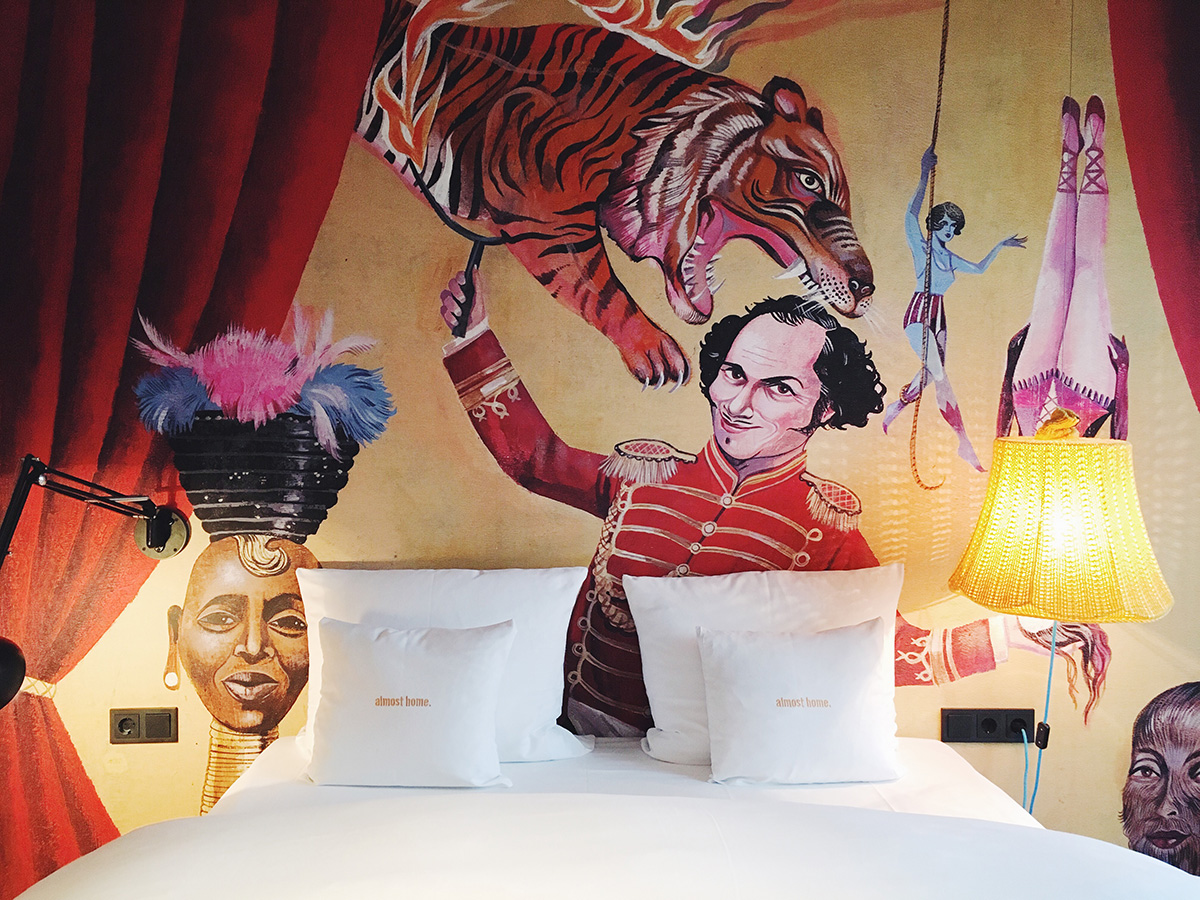 As soon as we checked into the hotel we headed back out again to explore the Christmas markets. It was opening day for several holiday markets around the city, the main reason we decided to visit Vienna this weekend. We started at the Christmas Market at Spittelberg, recommended by the concierge to be a more 'local' experience. This market was smaller, spanning three narrow streets lined with vendors selling crafts, mulled wine and local bites. We sampled lots of local food – a bratwurst in a deep fried pastry bun, a potato pancake, raceltte, and also a variety of mulled wine, including hot white wine, hot cherry flavored wine, and mulled wine with fresh ginger slices (my favorite!).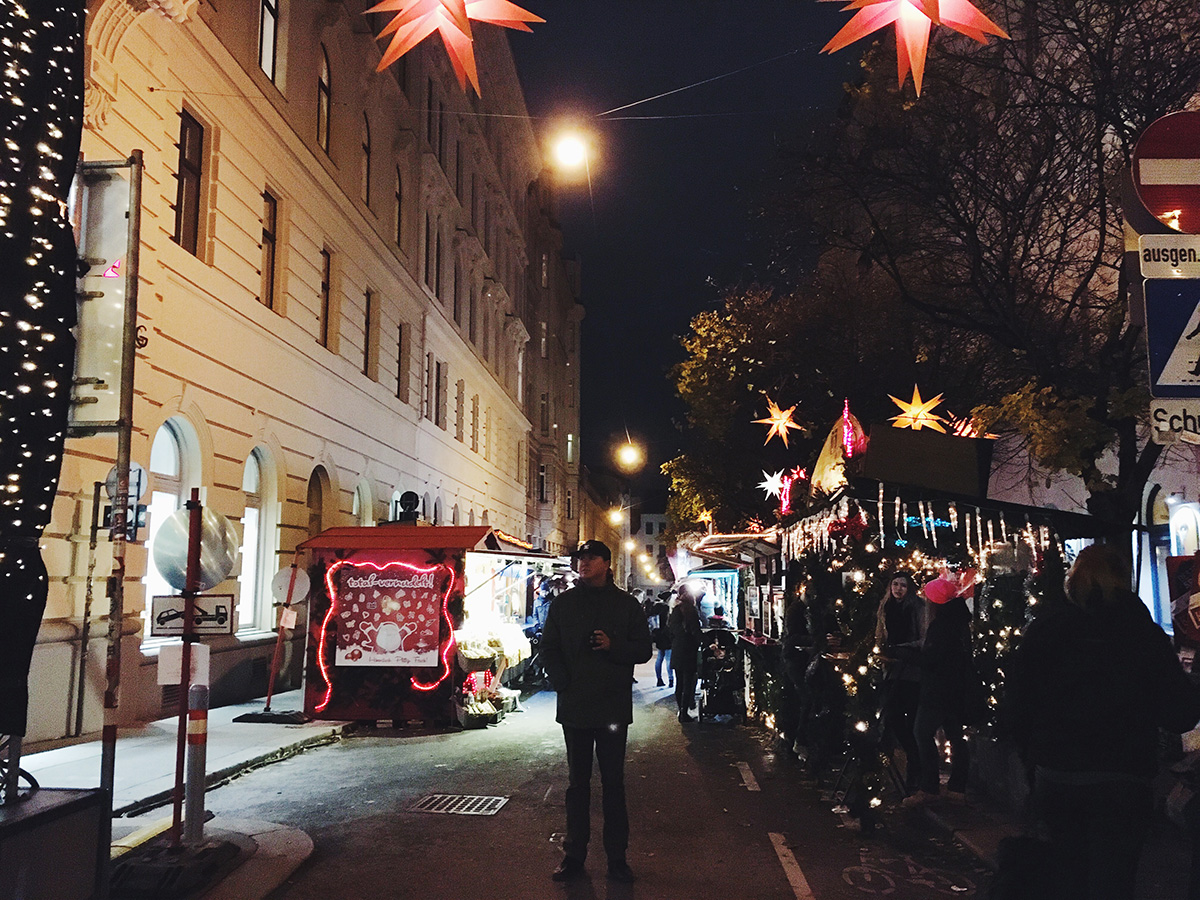 Next we headed to Christkindlmarkt, the Christmas market for which Vienna is most famous. This market felt especially festive situated below the illuminated Wiener Rathaus, the Neo-Gothic city hall of Vienna. It was packed with opening night crowds, but we still managed to make our way around the vendor stalls to admire the Christmas decorations and enjoy a cheese-stuffed bratwurst with some mulled wine. The market was lined with stall after stall selling anything Christmas related, from ornaments to fuzzy snow bunnies to wooden woodland animals and hand painted glass balls, it was like stepping into a North Pole dream!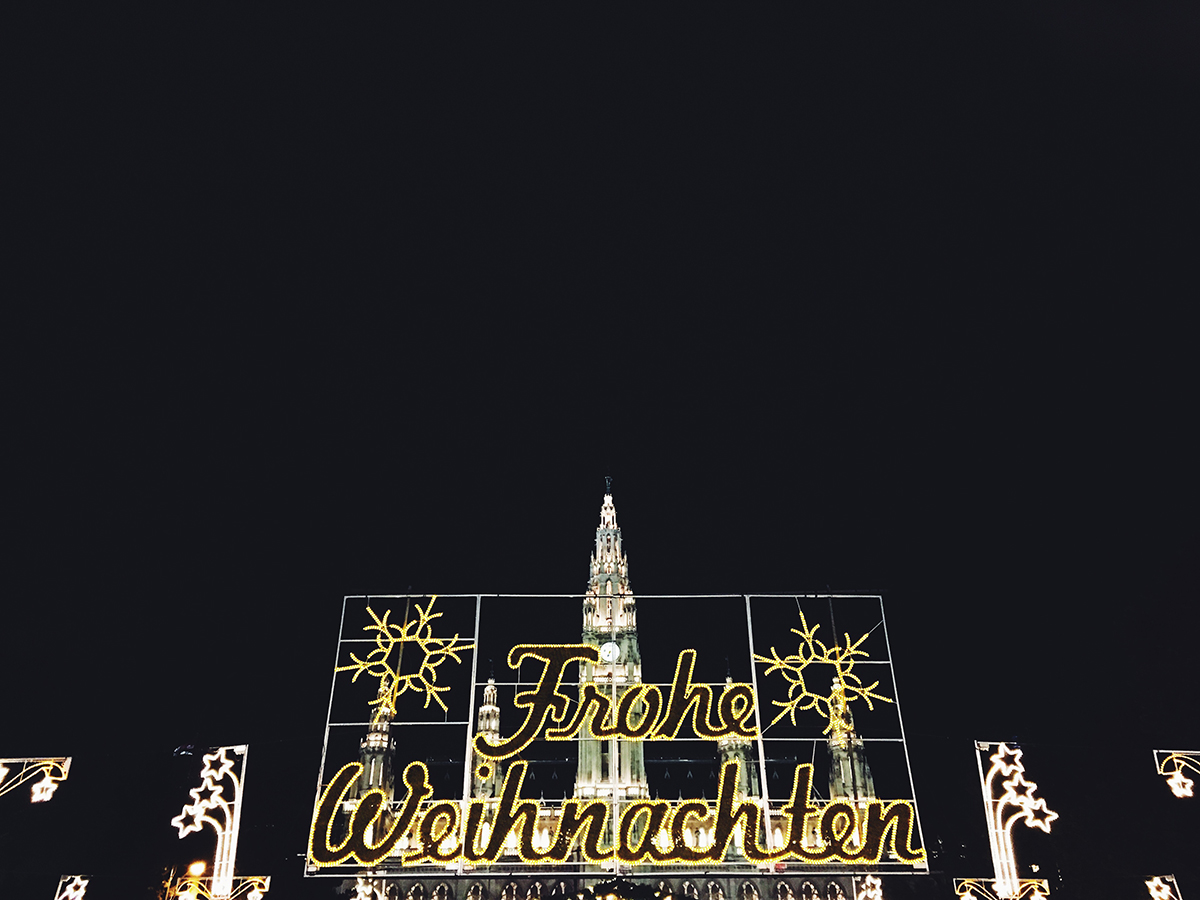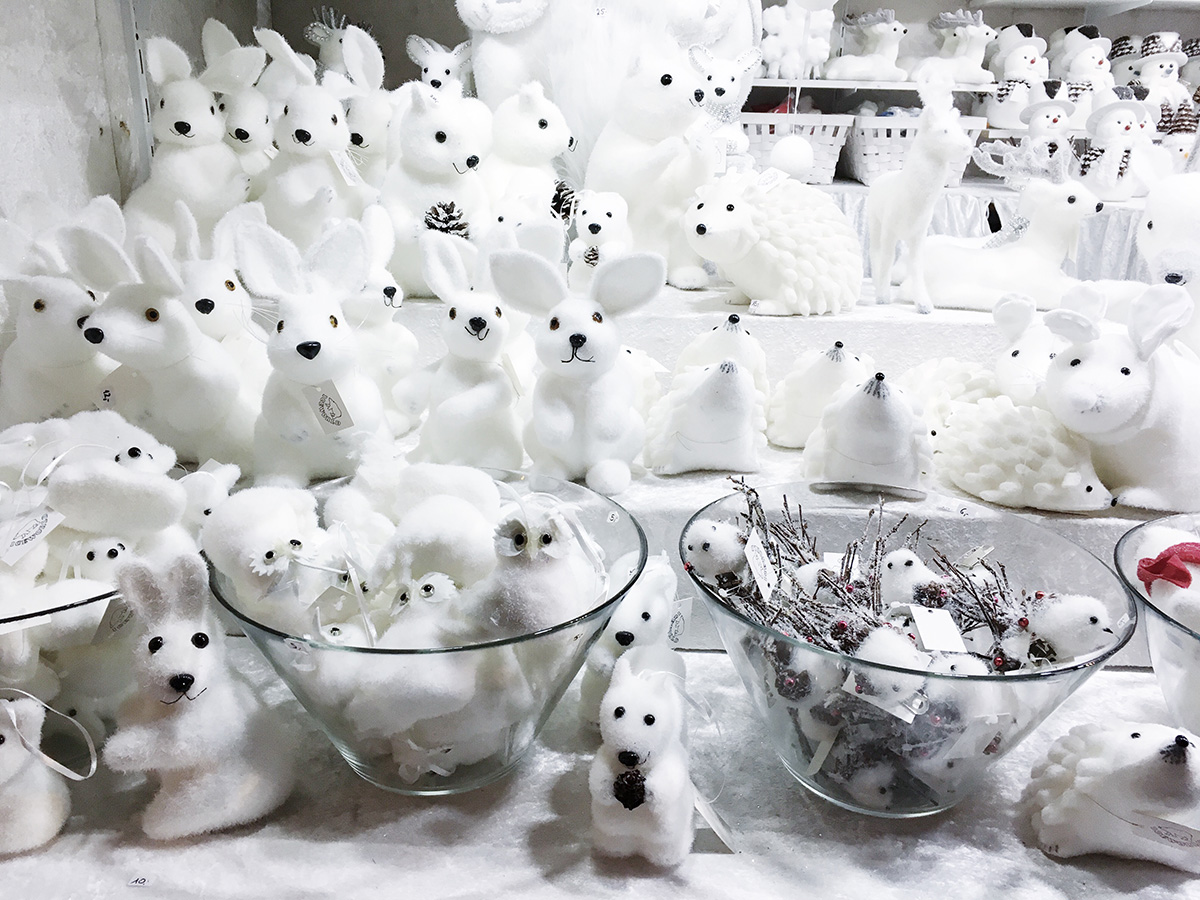 Our second morning in Vienna we woke up to sunshine and freezing temperatures, but I managed to get outside and run a lap around the inner circle of the city (thanks to the route the hotel provided, it was easy to navigate). Afterwards we headed to Café Griensteidl for a local Austrian breakfast. We both ordered the sausage and goulash, which basically ended up being a large hot dog covered in chili – this meal had Brent's name alllll over it! Meaty and hearty, it warmed us up for a morning of freezing exploring outside. The regal-like decor of the restaurant fit perfectly with the Michaelerplatz square where the restaurant was located.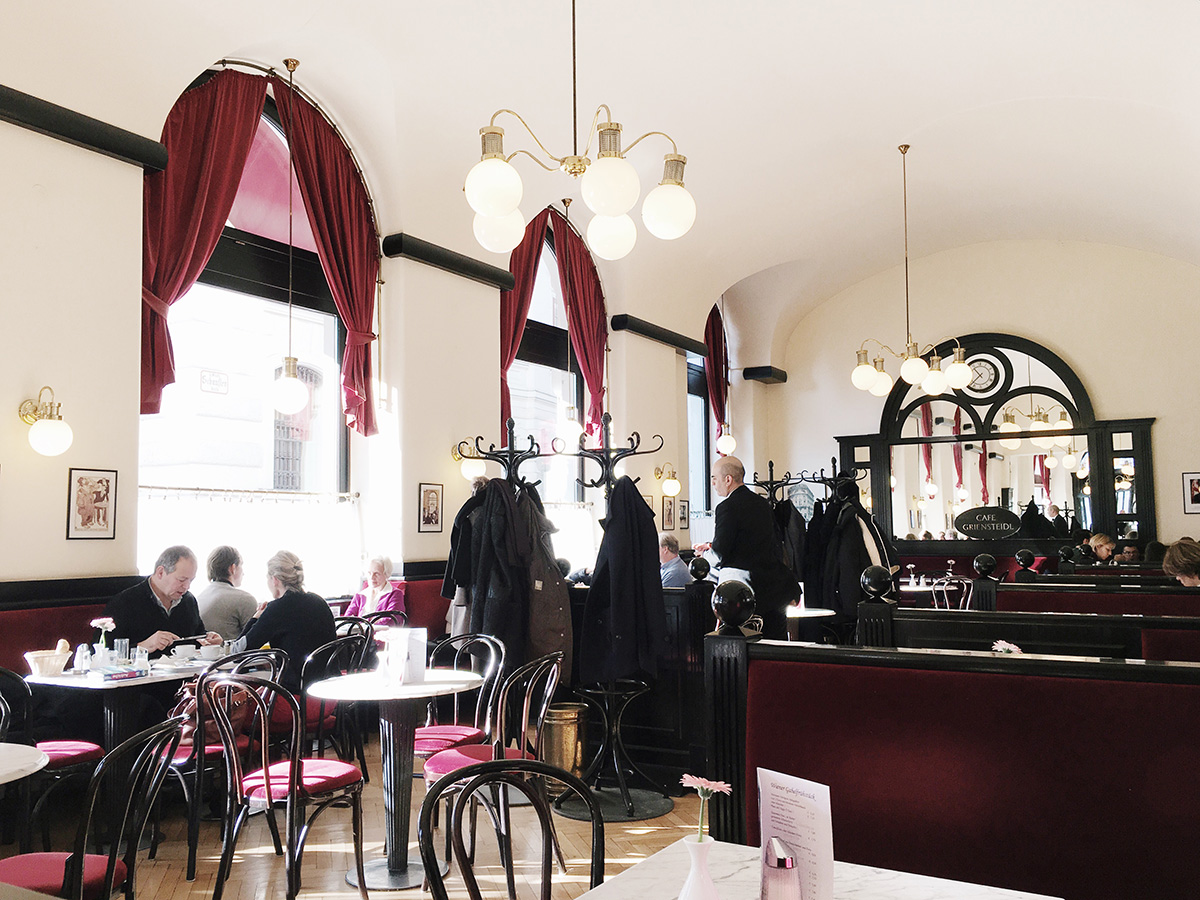 We spent the rest of the day wandering and taking in the sites and discovering new little pockets of Christmas markets tucked into squares around the city. My favorite part of town was Michaelerplatz – one of Vienna's most famous squares. It was filled with market stalls selling ornaments and mulled wine, lined with Chrstimas trees, and bustling with horses and buggy's waiting for passengers in front of the gorgeous white backdrops of the famous imperial palace and St. Michael's church. This square is not to be missed if you visit Vienna!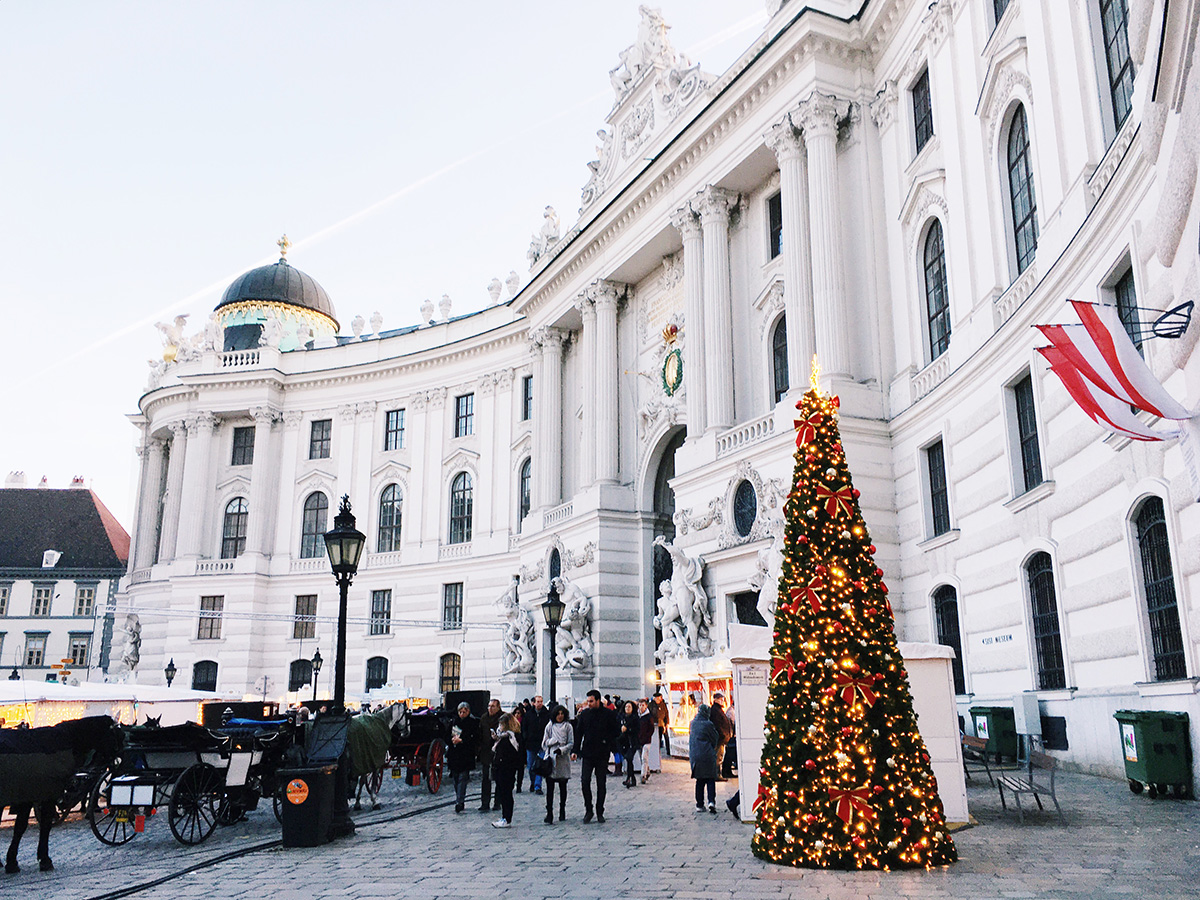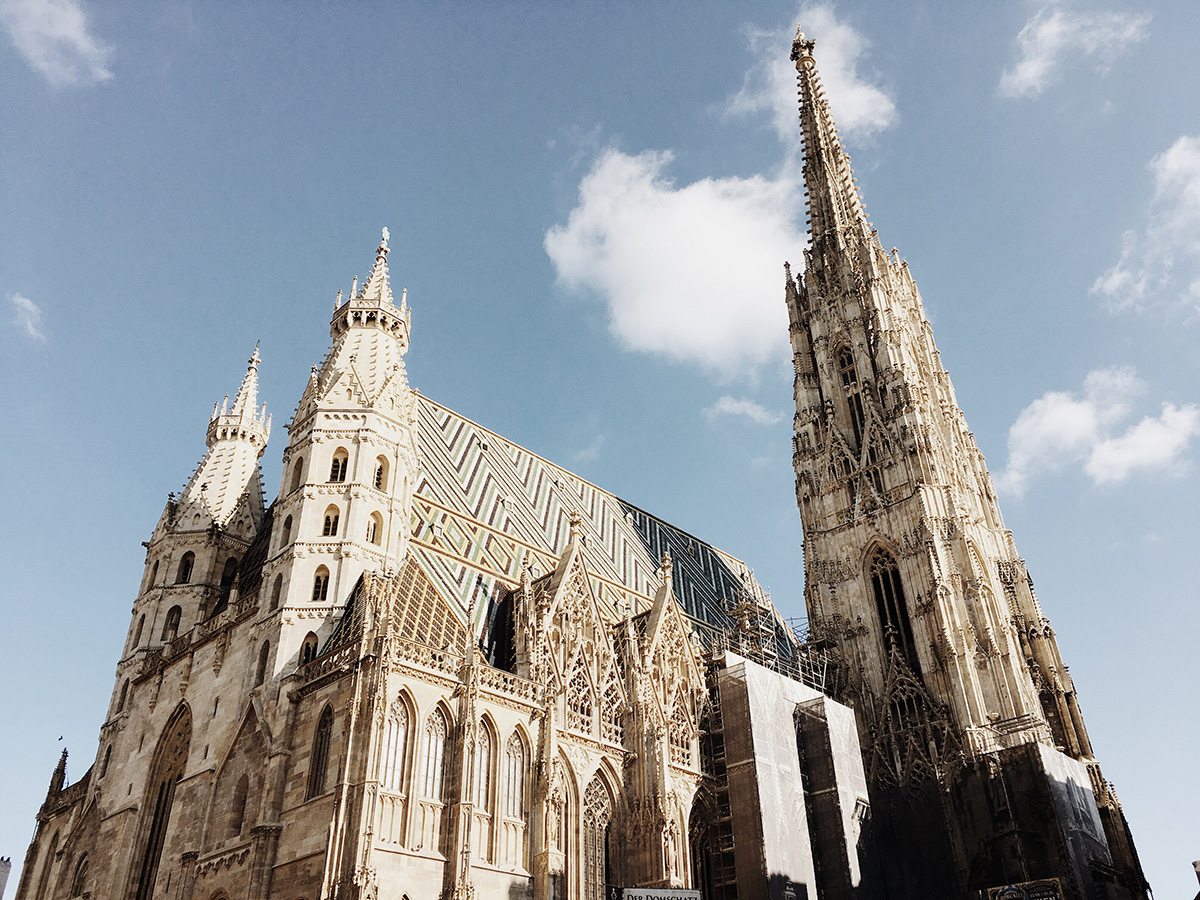 After a day in the cold we wanted to experience a hearty Austrian meal, so after doing his usual research, Brent led us to Pürstner Restaurant. Inside was dark and cozy and felt like a hunting lodge – taxidermy hanging on the walls, dark wooden booths hand painted with folk art florals. We filled ourselves up with giant Austrian beers, warm soup, and Brent ate an entire rack of ribs while I enjoyed spätzle, a delicious type of noodle common in Austrian and German cuisine. After dinner we made sure to stop at a Christmas market on the way back to our hotel to enjoy a night cap glass of mulled wine! This city definitely had us in the Christmas spirit!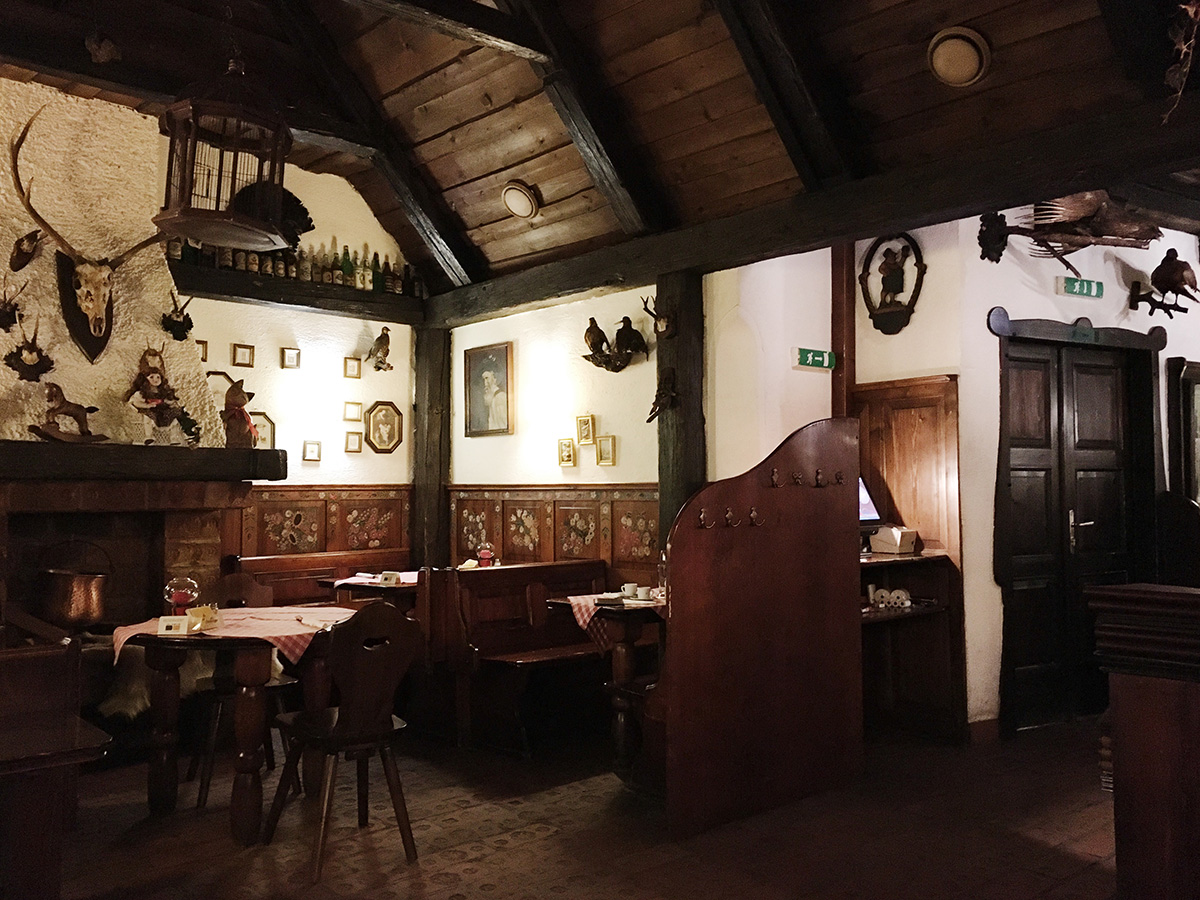 Our last morning in Vienna I had one more spot on my bucket list to check off before leaving – Disco Volante. (More eating! What else would we do?) I had come across this pizzeria while searching on Pinterest one day and really wanted to check it out – the bright white space sparkling from a massive disco ball was love at first sight! It's famous for the giant disco ball pizza oven situated in the center of the restaurant, and of course the pizza was delicious as well. It was a bit of a trek outside of the center from our hotel, but for the ambiance and the food, I'd say it was worth it. If you're in Vienna and in the mood for pizza I would definitely add Disco Volante to your list!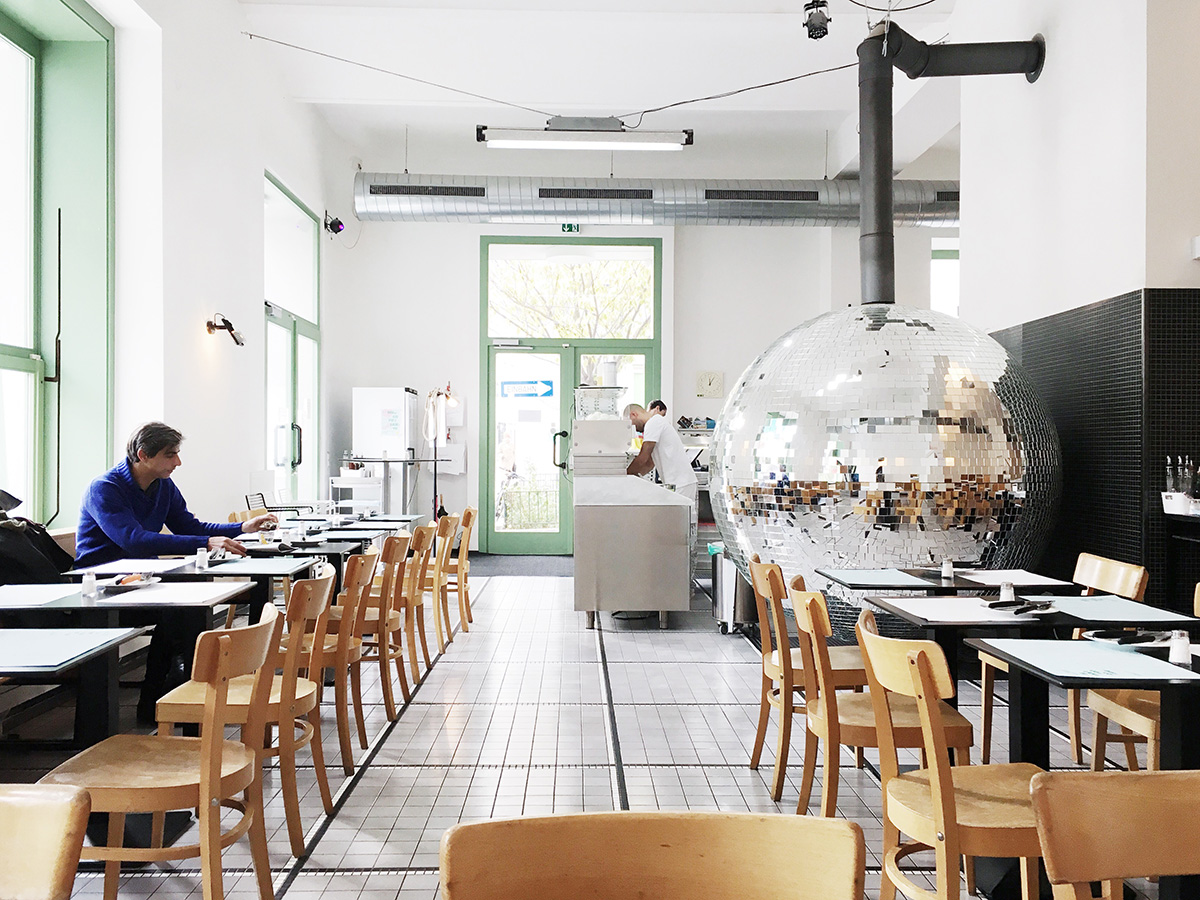 Overall I really loved Vienna – it was a little cold, but warmed us up with Christmas spirit. This trip we didn't spend as much time learning about the history of the city, but instead spent our time enjoying local food and holiday markets, which was really relaxing and more than enough to do during the day and a half that we had there. I would definitely recommend visiting Vienna during Christmas market season – seeing the city decorated was so special! I'm sure we'll be back again someday – thanks for a great time, Vienna!