After every marathon I run I always swear it will be my last… but this summer during an apero with Brent's coworkers at the Côte des Basques, our friend Greg told me he was planning to run the San Sebastian half marathon and encouraged me to join him. Even though I had sworn the Paris marathon I ran in 2015 with Jade would be my last, this idea peaked my interest. Afterall San Sebastian is one of my favorite cities, the race would be close to home, the closest marathon to Biarritz, and it would be easy for Brent to come cheer me on as he could pop into tapas bars throughout the course and grab a beer – how fun, right? I thought about it for less than 24 hours, and woke up the next morning and decided to sign up for the full marathon (if I was going to do it, I was going to run all the way). I thought it would be a good challenge to get myself outside everyday during training to enjoy the beautiful Basque Country, and there is no better way to get to really know a city than to run around the whole thing (twice, in this case) by foot.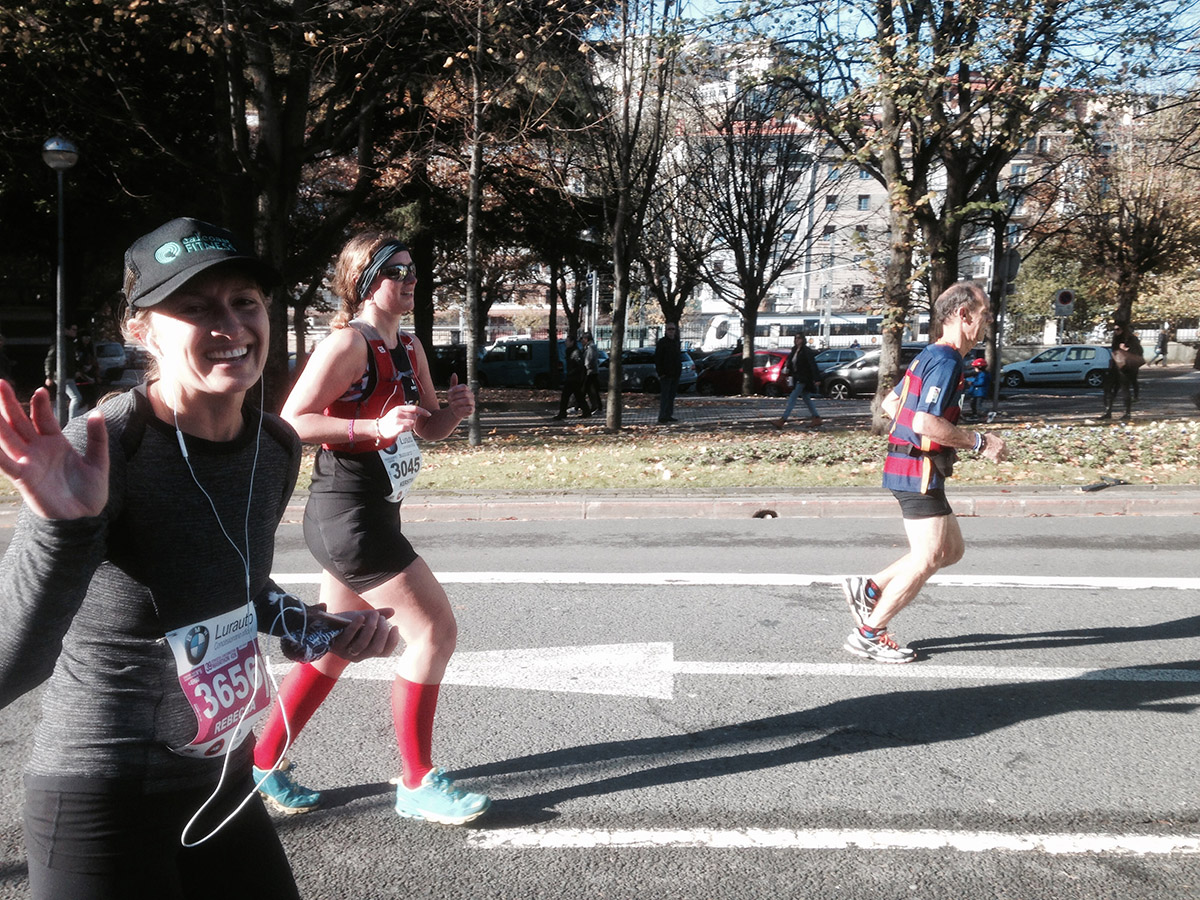 Challenge accepted! I started training in early September, running almost every single day since then, with many hours at the gym cross training with Body Pump, Spin, and Yoga classes. We traveled a lot during the past four months, with two trips to California included, so I got lots of running in on my old routes back home around Mission Bay in San Diego and around Back Bay in Newport. I logged some miles in Las Gaviotas, Mexico, and even convinced our best friend Cory to run 11 miles with me in Venice Beach (the longest he had ever run in his life! Thanks for doing that with me Cory!). My best friend, Ironman, trainer and personal coach Jade of Cal Coast Fitness wrote me a training plan to follow (if you're in Southern California and need to get in shape, she's your girl! Or even if you live on the other side of the world, she's still your girl!). She checked in on me almost every day after my workout to make sure I stayed on track. And days I really felt like backing out of my workout, trying to make some excuse (especially on speed workout days) she wouldn't let me quit and encouraged me to keep pushing.
During training I battled having a horrible cold while in California, but ran anyways, and also ended up getting a horrible stomach flu a few weeks ago and couldn't eat or walk for four days, not to mention all nutrients drained from my body. I felt like I was starting at zero after this and was worried this would set me back, but I pushed through and did my best to make up for lost training as soon as I could walk again. I even managed to pack cold weather running gear and get outside and log FREEZING miles during our trip to Prague and Vienna. As much as I wanted to, I didn't give up, and all the training ended up being so worth it. I have to say I'm proud of myself for working so hard and being so consistent – training alone isn't easy, but I did it!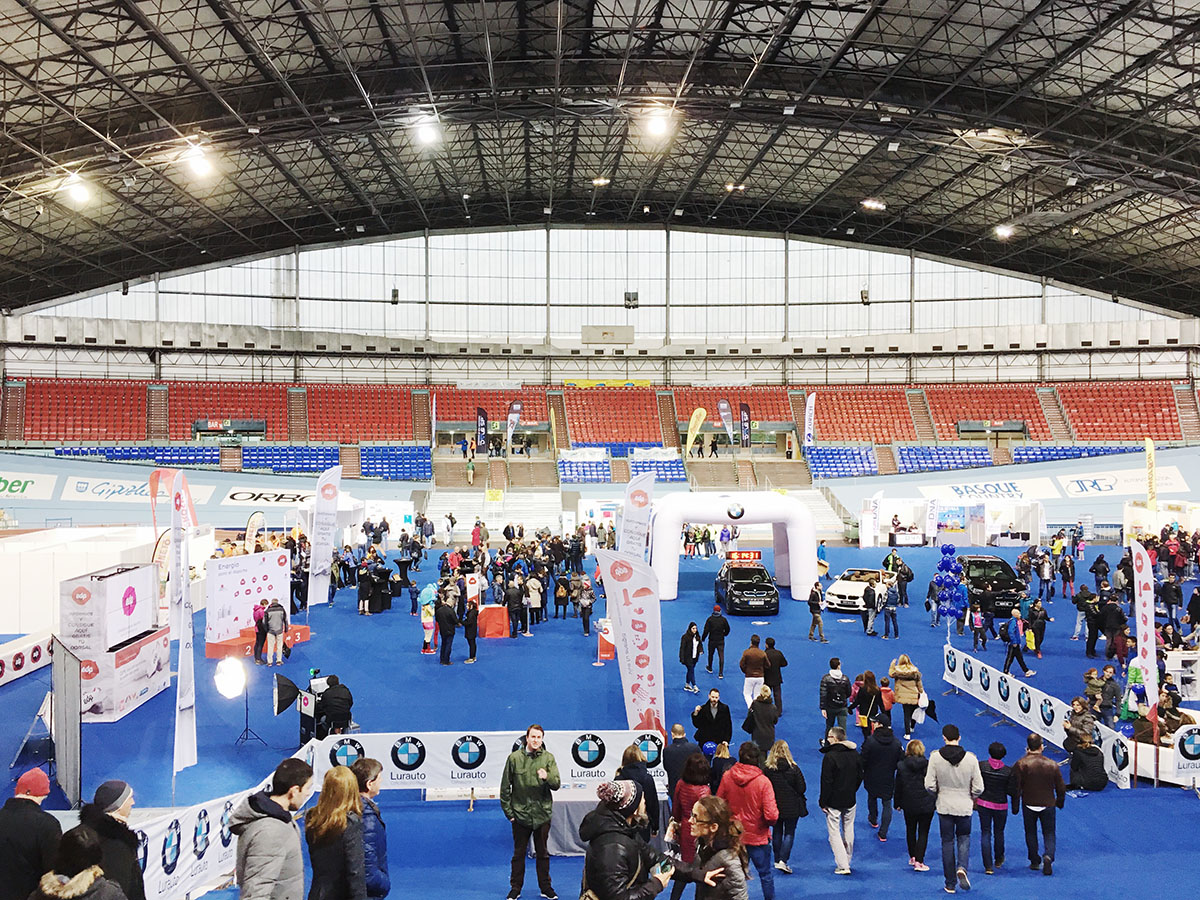 So on Saturday we headed down to San Sebastian to go to the race expo where I could pick up my bib and race packet. We checked into our hotel, Astoria 7, which was right next to the start of the course so it would be easy to line up for the race in the morning. After walking the expo with Brent and our good friend Kirsty, who kindly came down early with us to cheer me on, where they enjoyed free glasses of wine (only in Europe would they serve wine at a marathon expo) we hit up Zara (no trip to San Seb is complete without stopping into the three story Zara) enjoyed a few tapas, and ended the night fueling up with some hearty Italian food. I had eaten my carbs and hydrated all day and went to bed knowing I had done everything I could to prepare for the big race.
Sunday morning I woke up nervous and excited. My friends Elisa and Angele had taken the train down from France and met us at our hotel super early in the morning. The five of us headed to the start line where we met up with Greg and Amran (both co-workers of Brent), same Greg who encouraged me to run the race, who were both running the half marathon. It calmed my nerves a bit to see familair faces and have so many fans at the starting line. I got in line with my pace group, and at 9am on the dot we were off!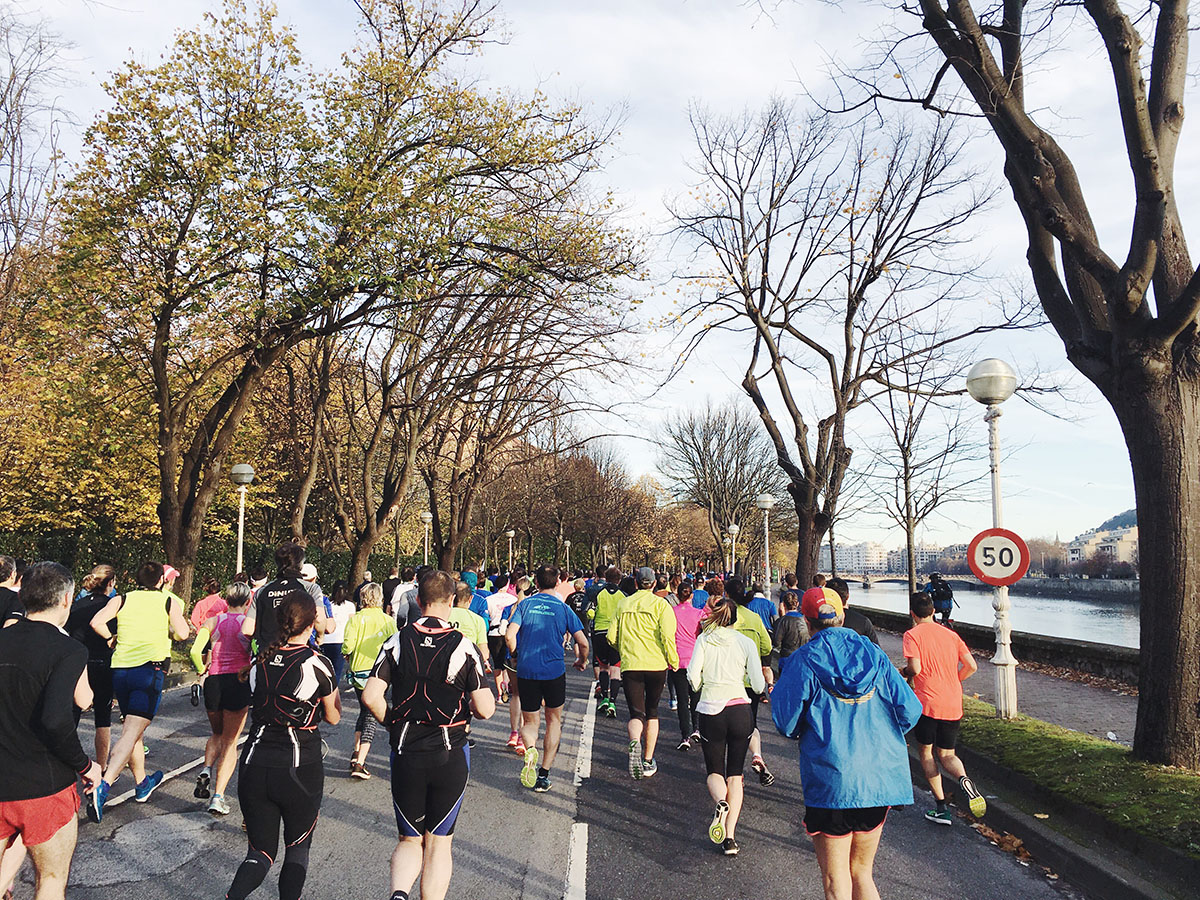 The race started off crowded and fast. It was a chilly morning… in the 40's when we started and in the high 50's when I finished the race, but luckily the sun was out. It couldn't have been a more beautiful day to run around the city! I did my best to enjoy the scenery and take in the views of the city during the run. We ran along the river, past the famous bridges, through town and along the famous Playa de la Concha. It was such a great opportunity to see almost every part of the city!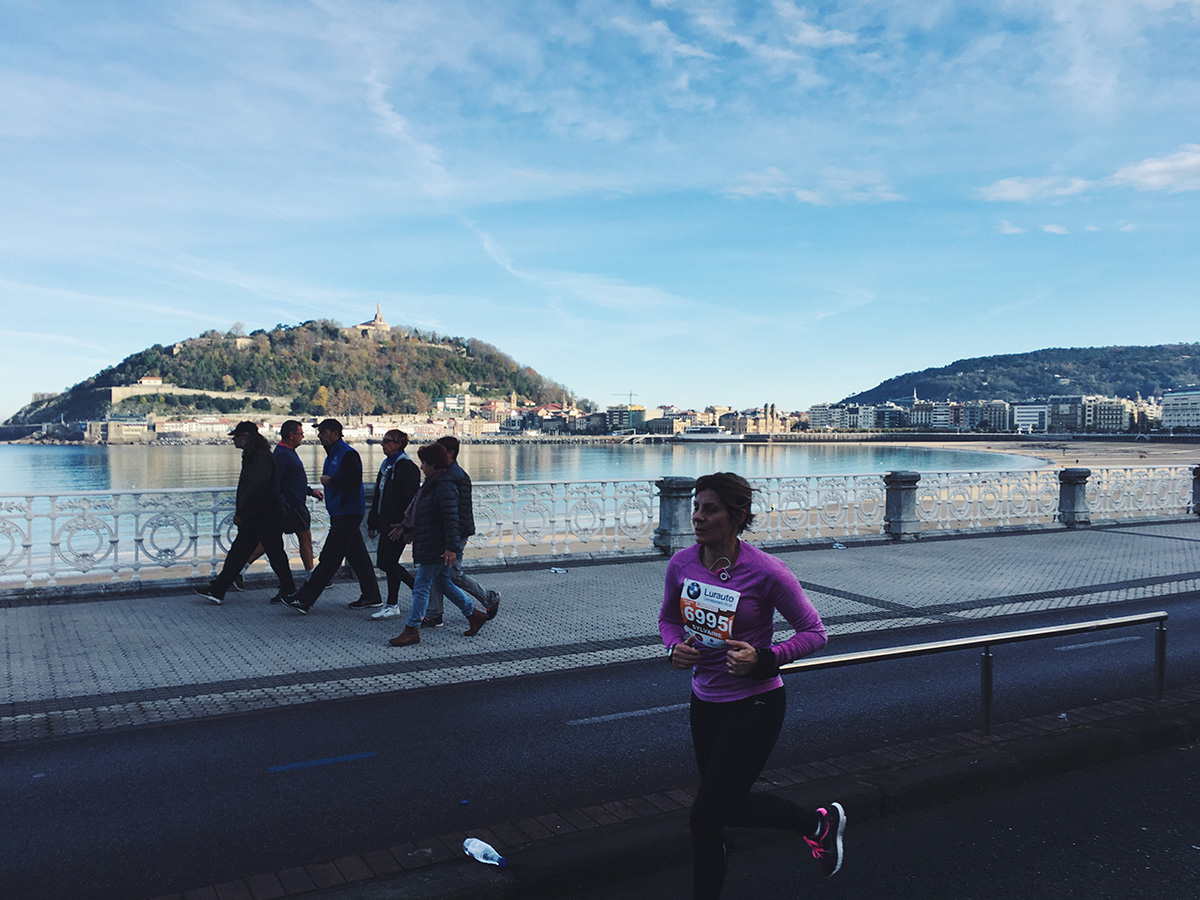 My fan club couldn't have been more supportive and encouraging! Brent – who has been such a trooper cheering me on at all 8 of my marathons – did a great job leading the girls around the course. Every time I saw them along the way I was so encouraged by their happy energy, and knowing I would see them throughout the race gave me something to look forward to. Kirsty and Elisa would run with me for a few minutes everytime I saw them, and Brent supplied me with water and fuel out of the backpack he lugged around during the day. The group really inspired me and helped me get through the most mentally challenging parts of the race. After Greg and Amran finished running their half marathon they met up with the group, too, and cheered me on during the second half. It meant so much to have all of them there to encourage me, thank you SO MUCH Brent, Kirsty, Elisa, Angele, Greg and Amran, I couldn't have done it without you!
The people of San Sebastian were also really encouraging during the race. It seemed like the whole city had lined up along the course to cheer for the runners. They would read my name off my bib and yell 'Venga Rebecca! Venga, venga!'. It was really encouraging and I appreciate every person who yelled out my name.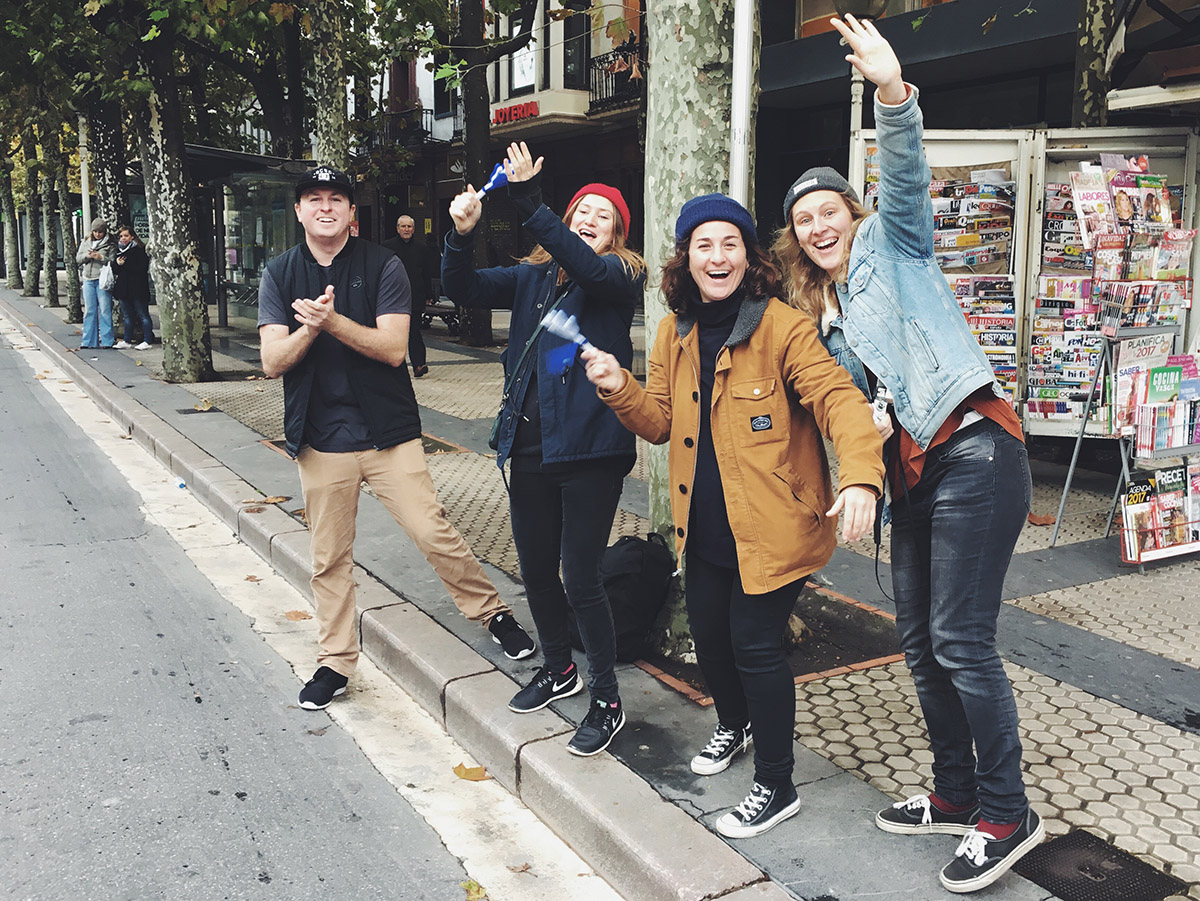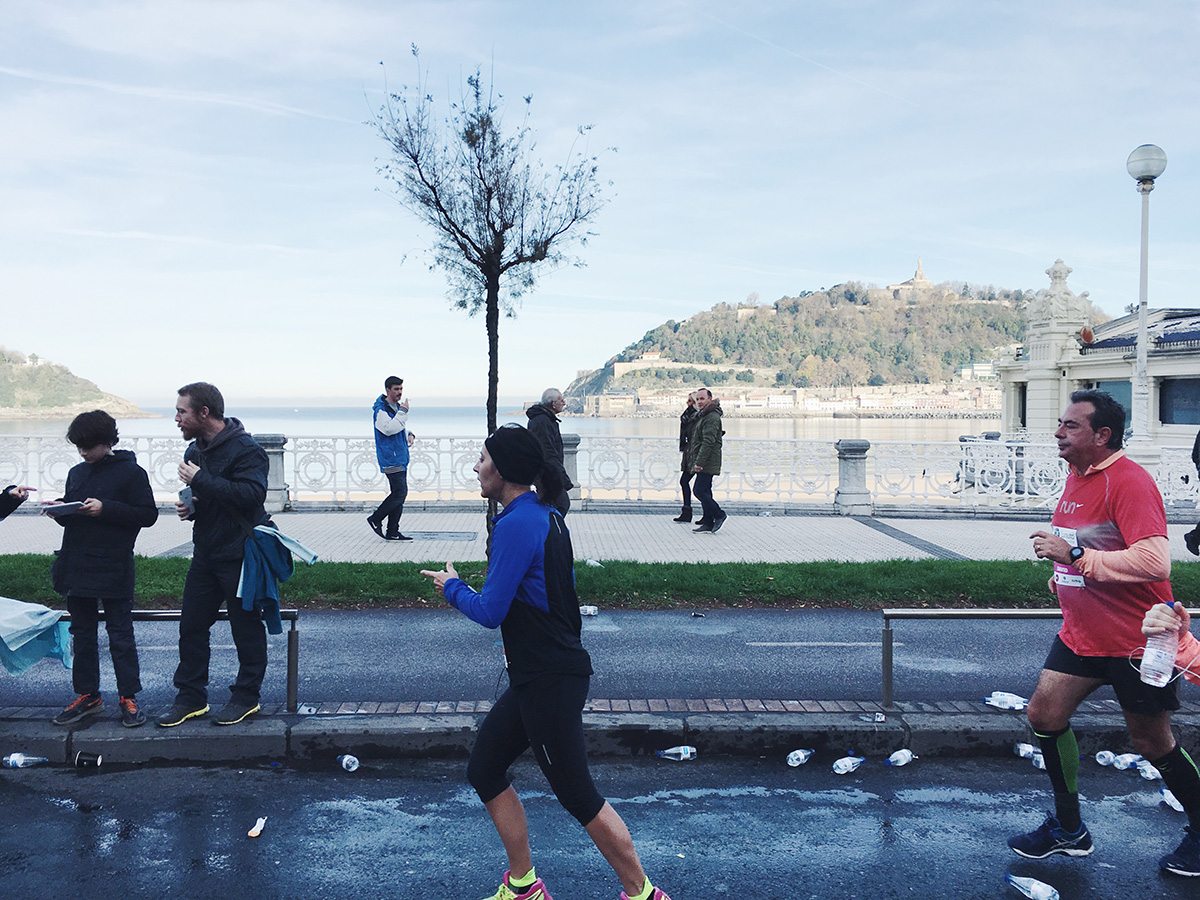 For the marathoners, the course was two full laps around the city. The first lap, and halfway point for me, ended in the stadium for the half-marathoners, while the marathoners ran through the stadium and back out again, to start our second loop of 13 miles. This was the point when my body really started to hurt and stiffen up. I turned up my playlist, and just kept moving my legs, hearing Jade's voice in my head, "just keep moving forward". It was a really fast course because it was so flat, which I had known ahead of time, but I was still so shocked that I ran at such a fast pace, much faster than any of my training runs. All those speed workouts and Biarritz hills paid off!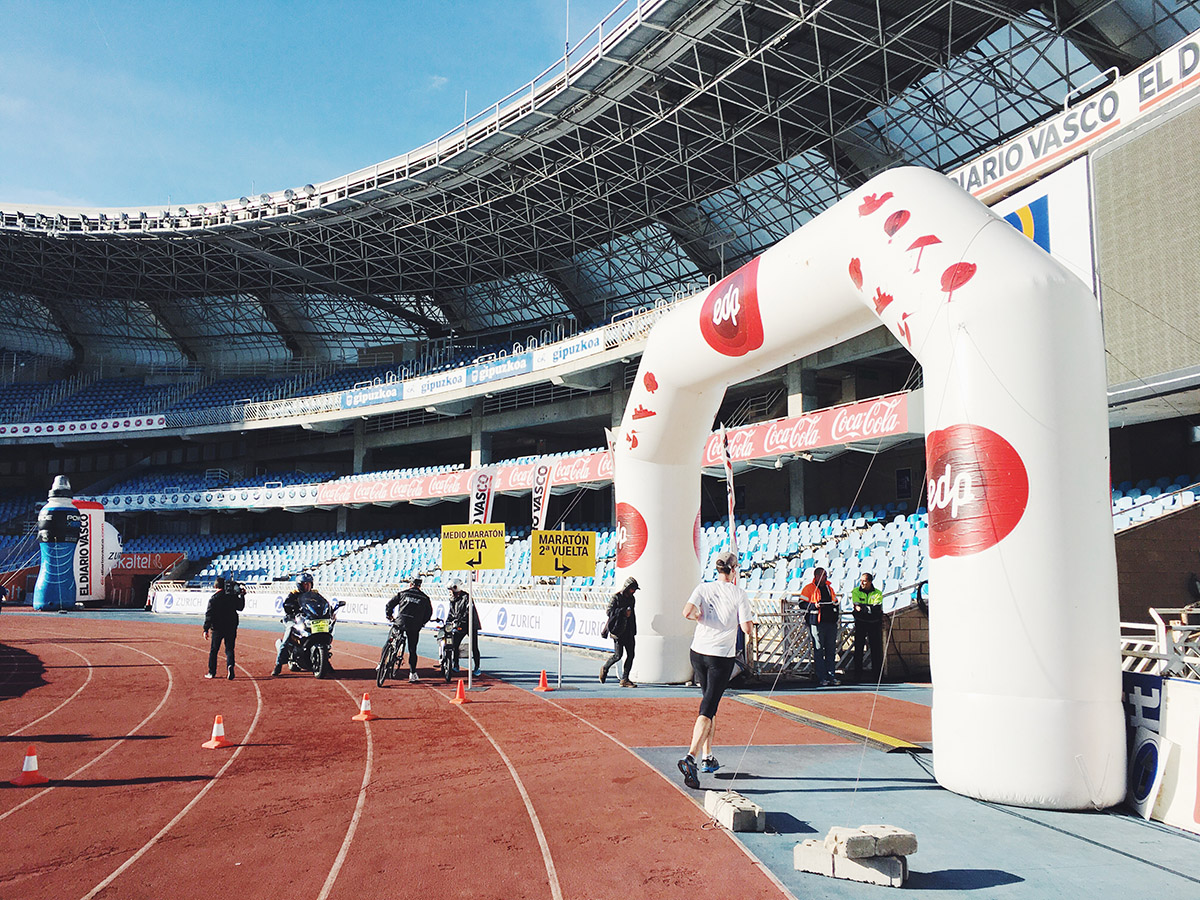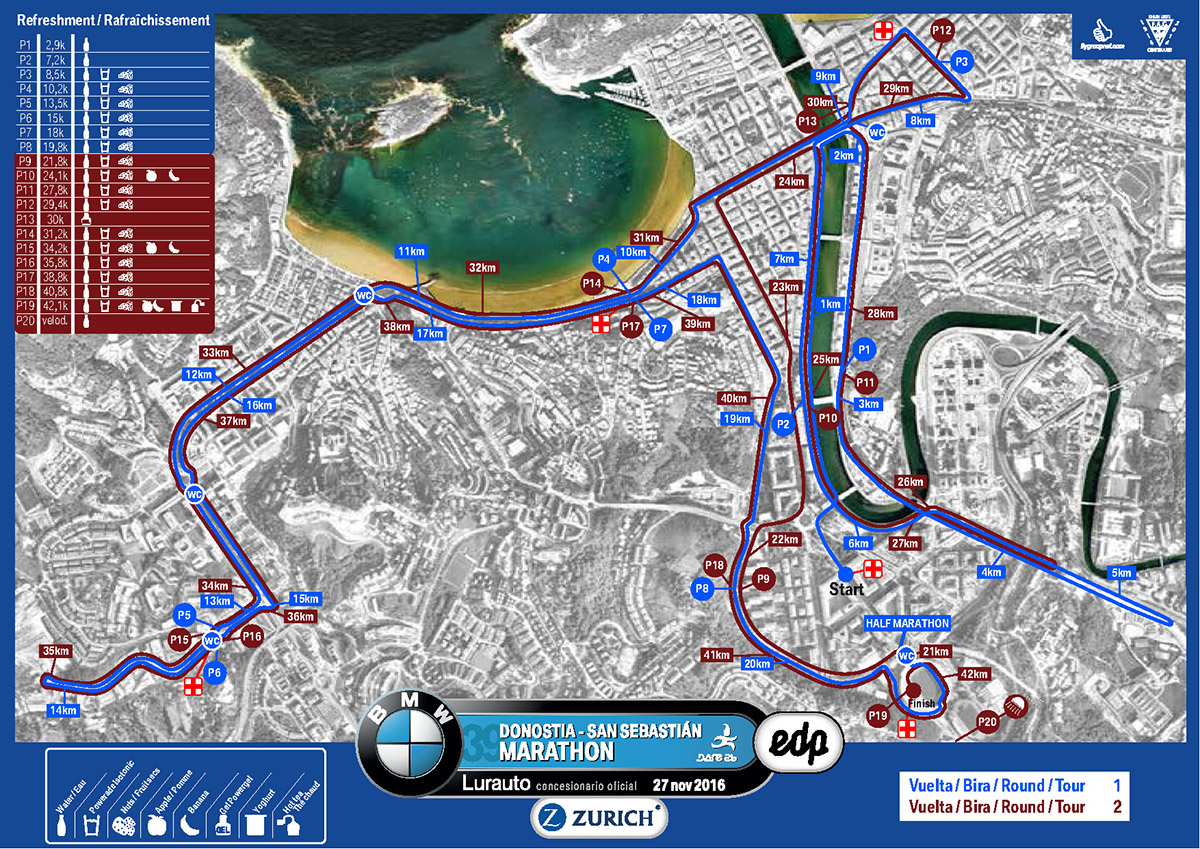 Miles 15 – 20 were the hardest mentally, but once I hit mile 20 and realized I still felt OK, I knew I would survive the race. I just kept moving my legs, watching the fans cheer me on, listening to my Pitbull mix, and before I knew it I was in the final two mile stretch and wanted to cry out of happiness. I passed my fan club just before entering the stadium for the final time, which gave me just enough energy to have a really strong finish. I entered the stadium and crossed the finish line in 4 hours and 17 minutes. It wasn't a PR, which I was hoping for, but still one of my fastest races I've had, 3rd best out of 8 marathons. My best time was 4 hours and 12 minutes in the Huntington Beach Marathon back in 2009, and 4 hours and 15 minutes in San Franciso back in 2007. I haven't run that fast since then, so I feel really proud that I finished much faster than expected!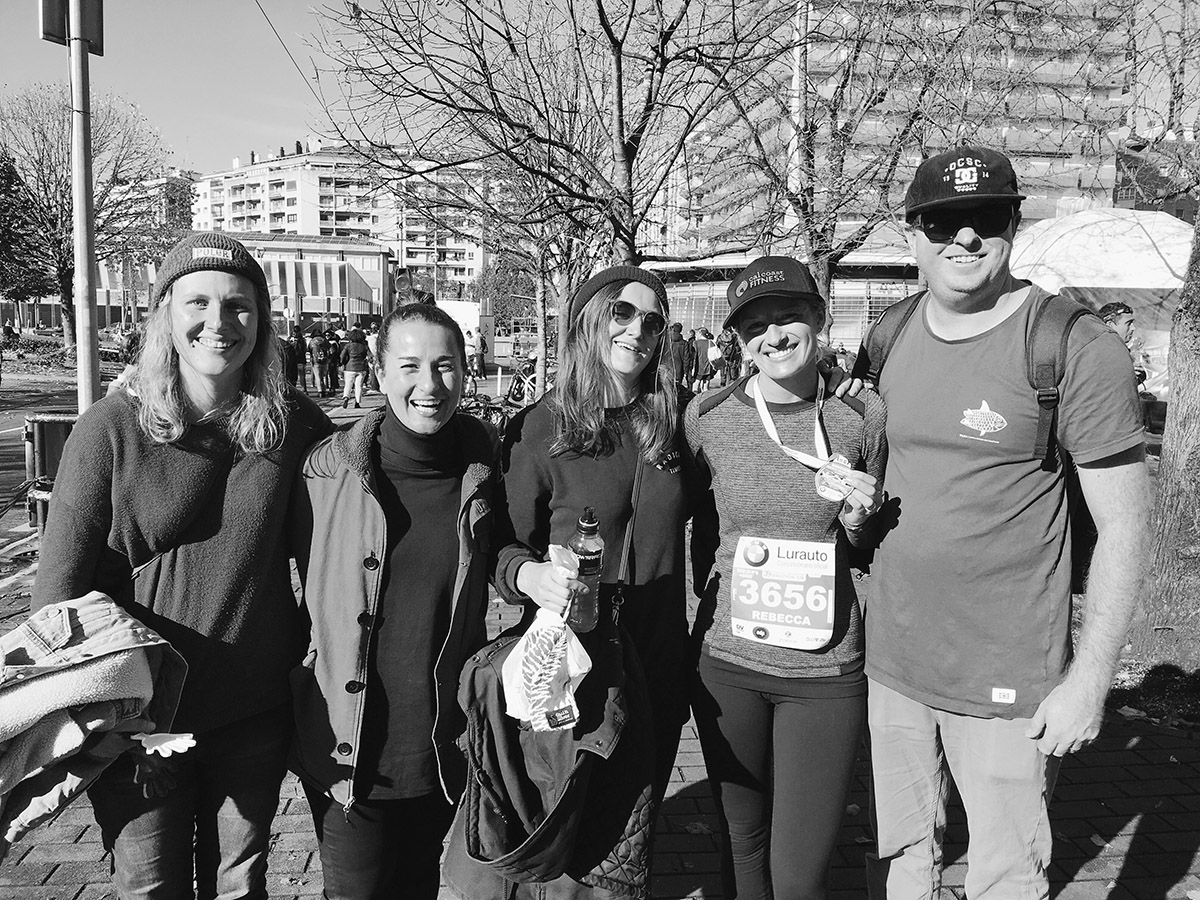 After the race we headed to Old Town to go to my favorite tapas bar. We ate so many pinxtos and had a few celebratory drinks – the most perfect way to end my Spanish marathon experience!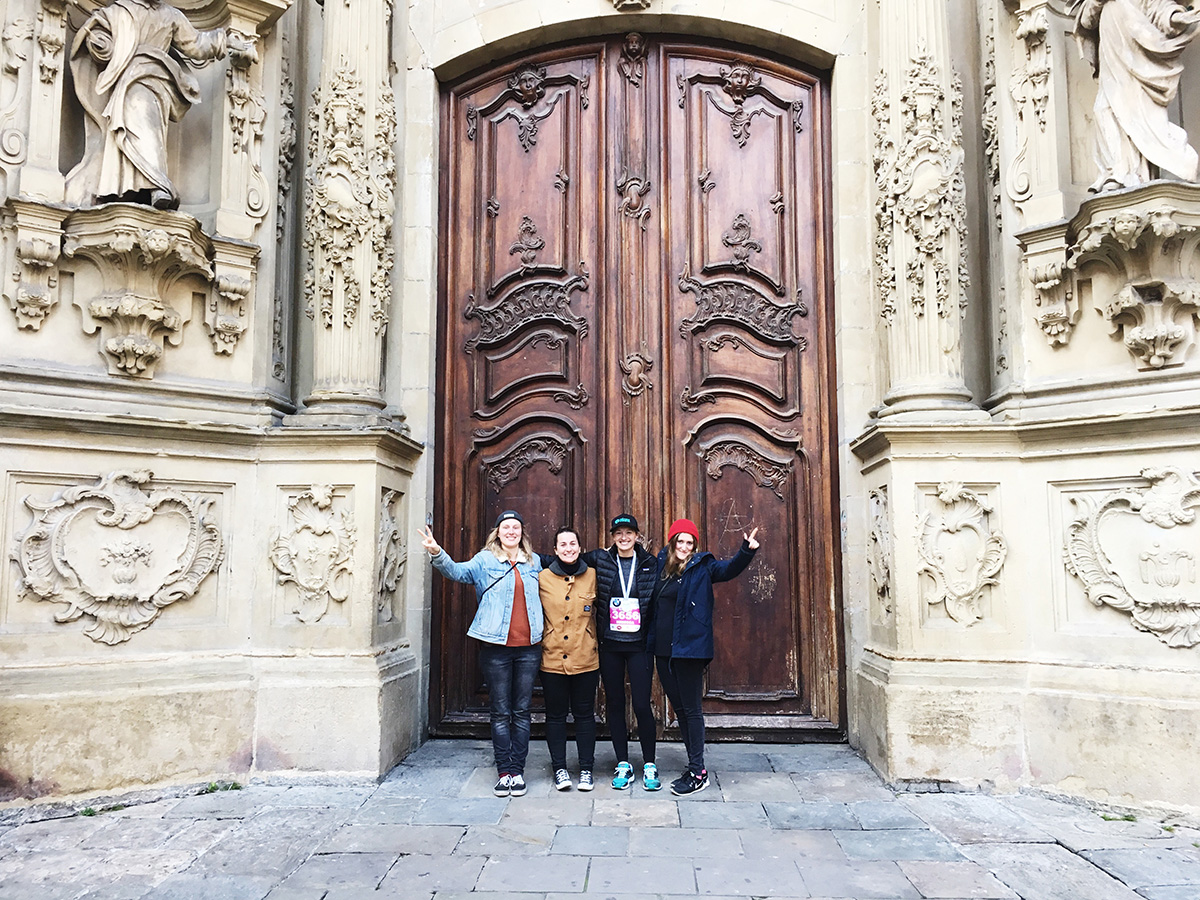 I woke up this morning SO sore, barely able to walk, blisters all over my feet, and wanting to eat everything in sight. It was (and is still) painful, but the memories of yesterday make it all worth it! Will I ever run another marathon? Who knows… definitely not anytime soon, but I know now after 8 to never say never…