Earlier this month we spent a rainy Saturday with some friends in the beautiful, quiet town of Pauillac. Pauillac is in the Médoc region of France, about a two and a half hour drive north from Biarritz – although because of the rain and all the August-weekend-traffic, it took us nearly 4 hours to get there (sigh). Our main reason for heading to Médoc was because our friend Daniele had scored Sunday lunch reservations at Mimi Thorisson's pop-up restaurant (a post dedicated to that amazing experience coming soon), and we decided to head up a day early to explore Médoc a bit, since none of us had ever been there. Because we booked just days in advance we didn't have many hotel options, but we were luckily able to find two available rooms at Logis Hotel de France et d'Angleterre in Pauillac, which is how we ended up in this quiet little town.
As soon as we pulled into the center of town, we quickly realized Pauillac is not a huge tourist destination – no shops were open on a Saturday afternoon in August, and there were only a few restaurants along the main strip in the center of town (I think everyone must have been in Biarritz). It took stopping at three different places to find somewhere that would serve us lunch at three in the afternoon, and when we finally found a place still serving food they said 'Seulement charcuterie, du fromage et des huîtres' (Only meat, cheese and oysters) – but luckily, accompanied by a glass of rosé, that sounded perfect to us!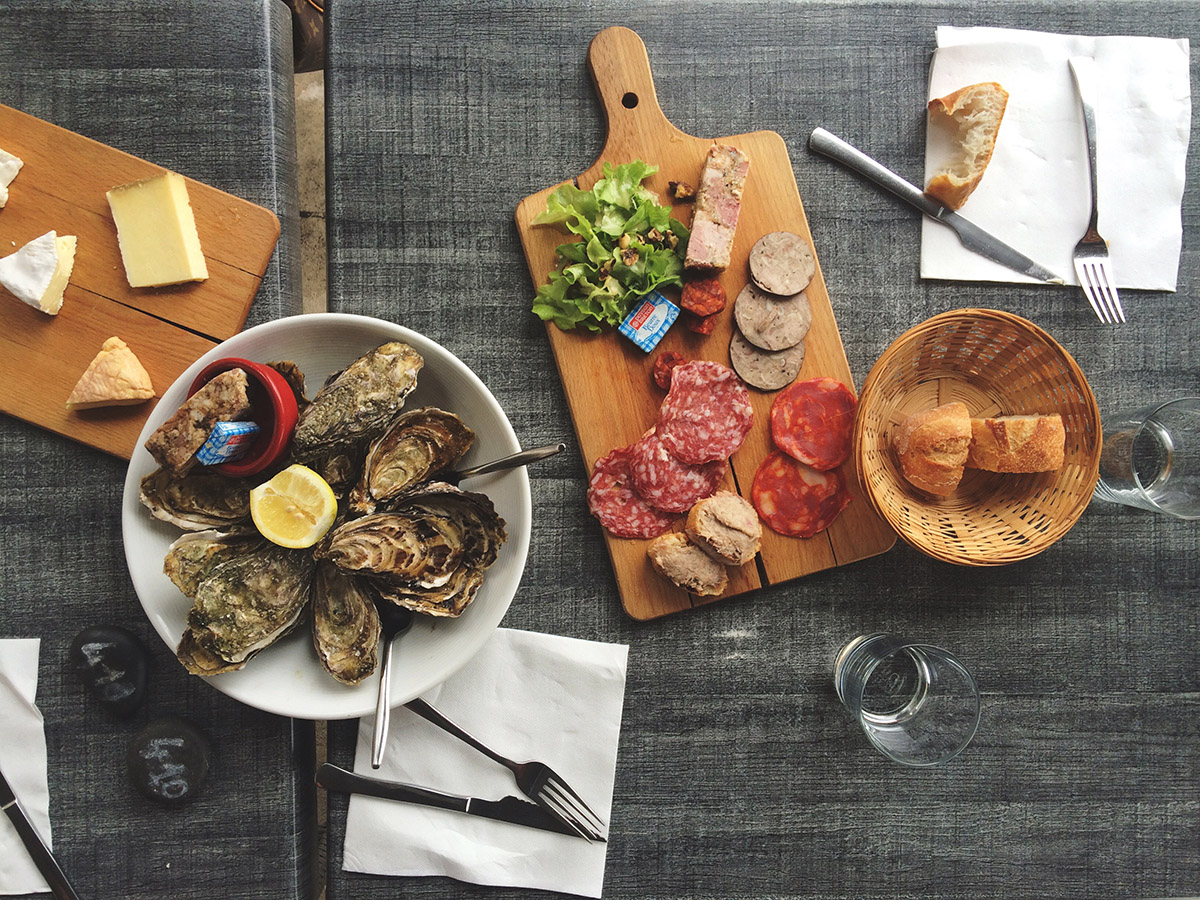 After lunch, despite the drizzling rain, we wandered a few streets in the center of town. The homes in Pauillac were old and gorgeous – muted colors, weathered shutters on the windows, textured walls, and my favorite detail – the hand door-knockers hanging on almost every door in town. Now I'm determined to find one at a brocante and attach it to the door to our apartment – I wonder if our landlord would be ok with that? Ha! Even though the town was empty and quiet, it was still fun exploring the rustic streets. So much history and so much charm.
For dinner we had reservations, thanks again to Daniele, the master reservation-maker, at Café Lavinal, located just oustide of town at Château Lynch Bages, which Mimi had recommended, so of course we wanted to try it! Despite the rain, we decided to be adventurous and walk. It ended up being about a 20 minute walk, which led us through some beautiful vineyards. Despite seeming quiet and deserted outside, inside was a warm, bustling brasserie, with simple, delicious food – I had a salad and Brent got his usual plain burger, so he was happy.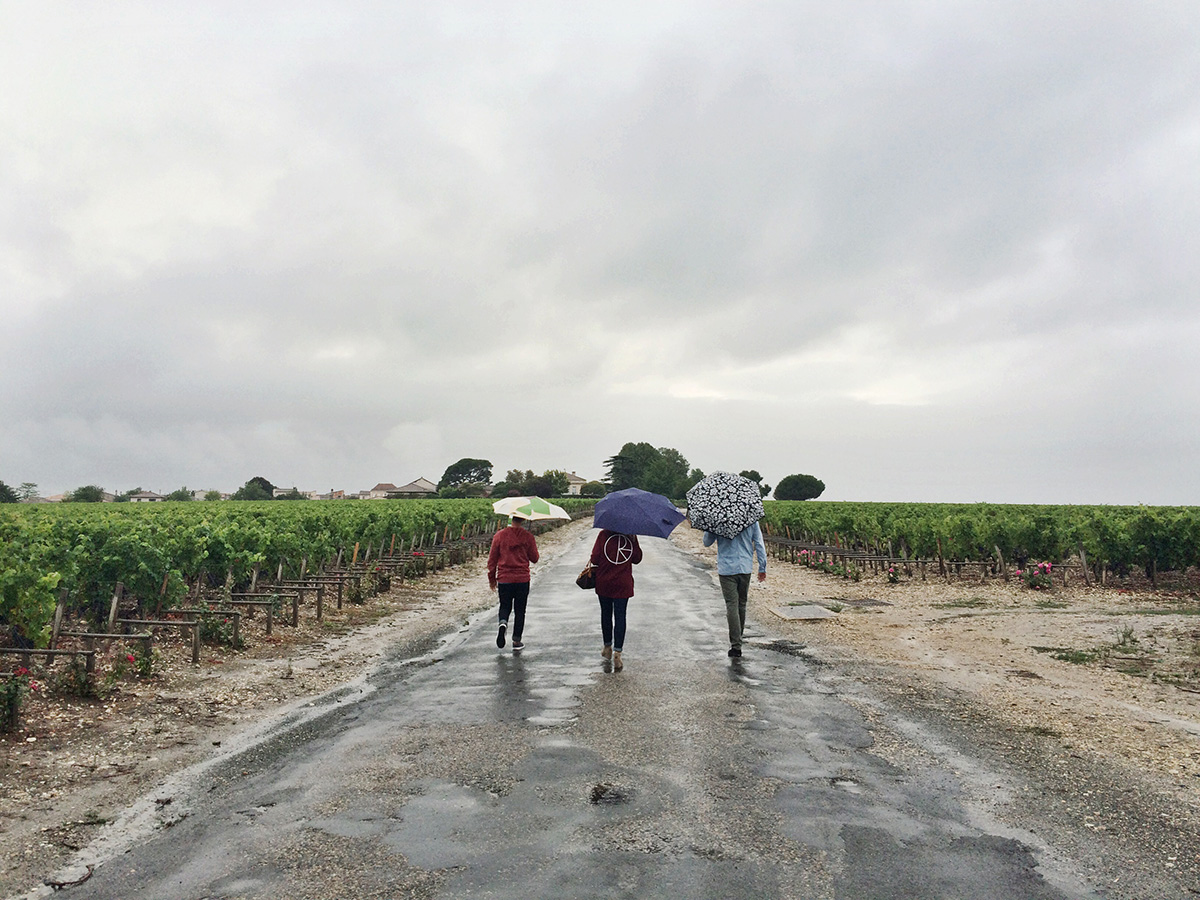 Sunday morning it was still raining and we had some time to kill before heading over to Mimi's for lunch, so I woke up and went for a run around town (despite the rain), up and down every street – taking in all the details. My favorite way to really get to know the layout of a town is to run through it, especially when traveling. There was a nice wooden boardwalk that bordered the edge of town along the river that I did a few laps on. The photo below was taken from the boardwalk, looking back across the street at our hotel.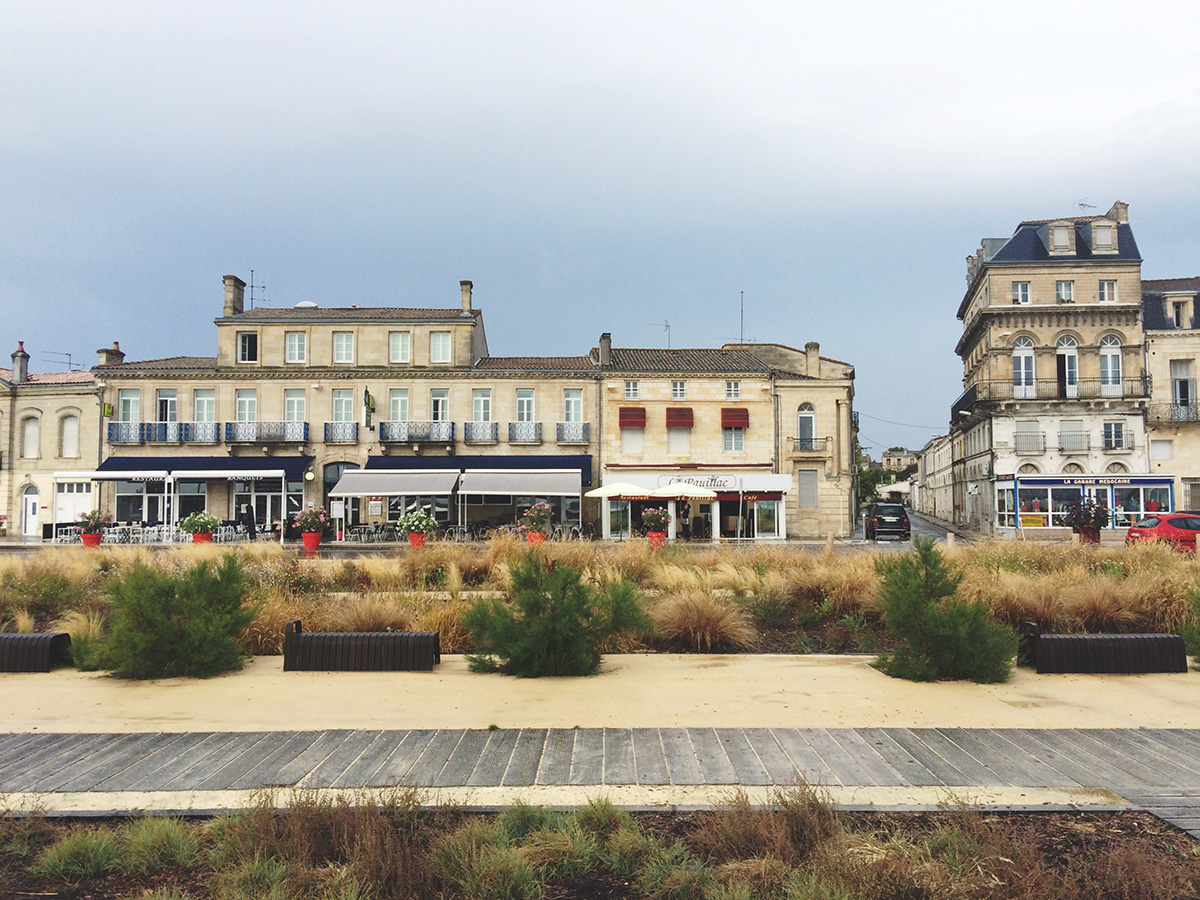 I wouldn't say Pauillac makes it to the top of our list of recommended destinations, but if you happen to be exploring Médoc and enjoy quiet, rustic charm, with no tourist distractions, Pauillac would be a great place to stop and have lunch, as long as you make it during serving hours.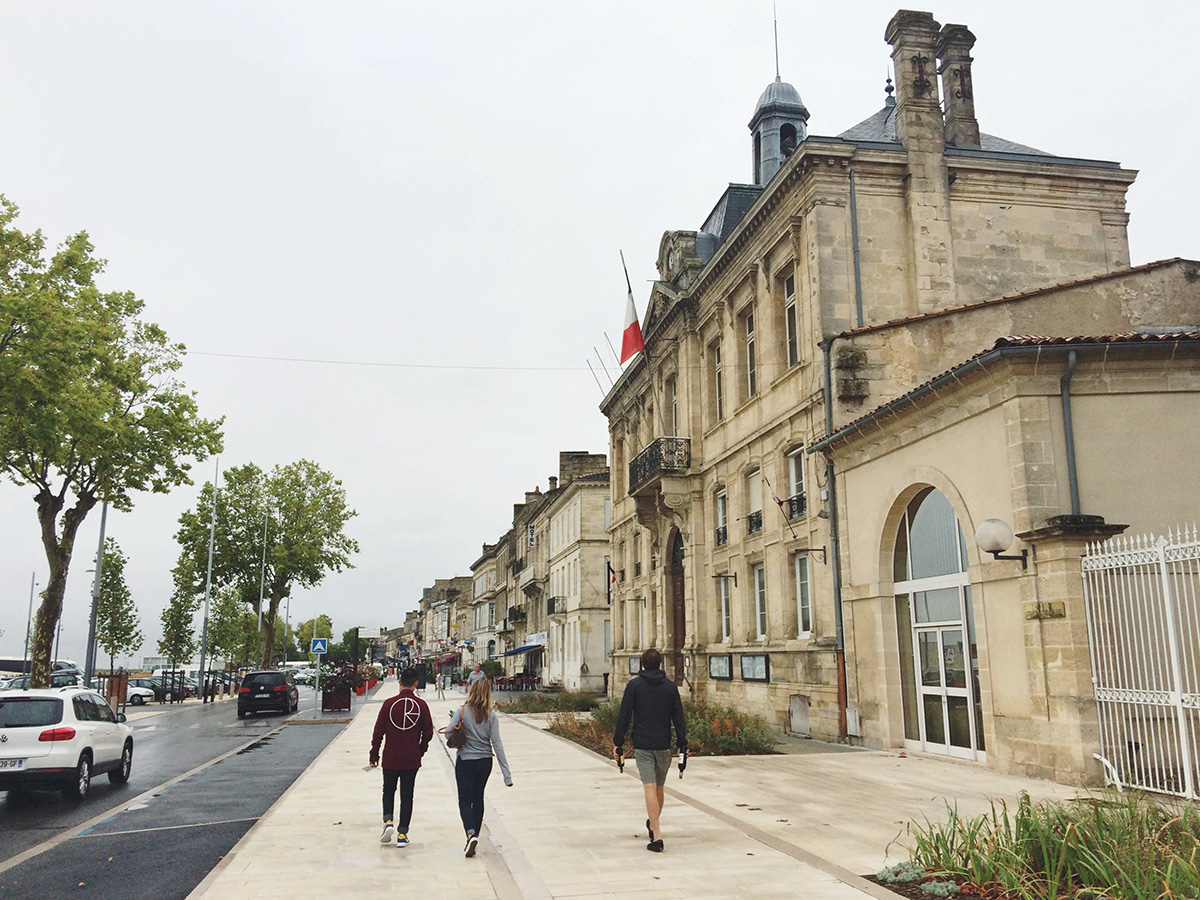 Our friends Daniele and Michael, who we spent the weekend with, also recently made the move from California to Biarritz. Daniele also writes a great blog about their travel adventures and new life here in France that you should definitely check out : L'Expat. She did a great post about this weekend spent in Médoc, too!